please note: The following article is based on over a decade of fishing at Blenheim Palace, from my own experiences, it is not a definative guide to catching everytime, however I hope if you fancy a day out at Blenheim it may help to point you in the right direction.
Piking At The Palace - A Rough Guide

History

Currently home to the 11th Duke of Marlborough and famously the birthplace of Sir Winston Churchill. Blenheim Palace was a gift from Queen Anne to the 1st Duke of Marlborough following his victory at the battle of Blenheim in 1704. Set in 2000 acres of parkland designed by Capability Brown, which includes the Great Lake that attracts many anglers every year. As well as pike, the lake is famous for its Bream and Tench catches, and previously held the tench record back in the 1950s. To fish Blenheim you have to prebook and tickets are limited to 12 boats, ensuring your fishing is comfortable.
Tackle & Equipment

Personally having had a lot of experience of boat fishing I use Fox Boat rods which have a length of 10' 6" and a 2.75lb tc, which make the rods easier to use whilst afloat. These are not essential and any carp\pike rod with at least 2.5lb tc will be sufficient, as distance casting is not required when on a boat. Couple the rod with a decent freespool reel loaded with at least 15lb mono or 20lb braid, which ever your preference. More important than expensive rods and reels are the essential bits of tackle for when you get a pike in the boat. Forceps (short & long), hook cutters in case of a deep hooked pike and long nose pliers. A landing net of at least 36" is required as is a decent sized unhooking mat to protect the pike from the hard deck of the punts.
[img]
[/img]
Lure fishing transformed our results on the lake and our catch rate increased overnight, due to the fact we were covering more water in each session. We would always put a dead bait rod out as sometimes the pike were reluctant to chase a lure. I only use braid on my lure reels now as you can feel every knock and bump and sometimes feel the pike nip at the lure before you actually hook him. We found rubber shads in all sizes worked very well, also jerk baits especially in the shallower water. Big lures dont always mean big pike, ive had jacks take a shad half its size!
[img]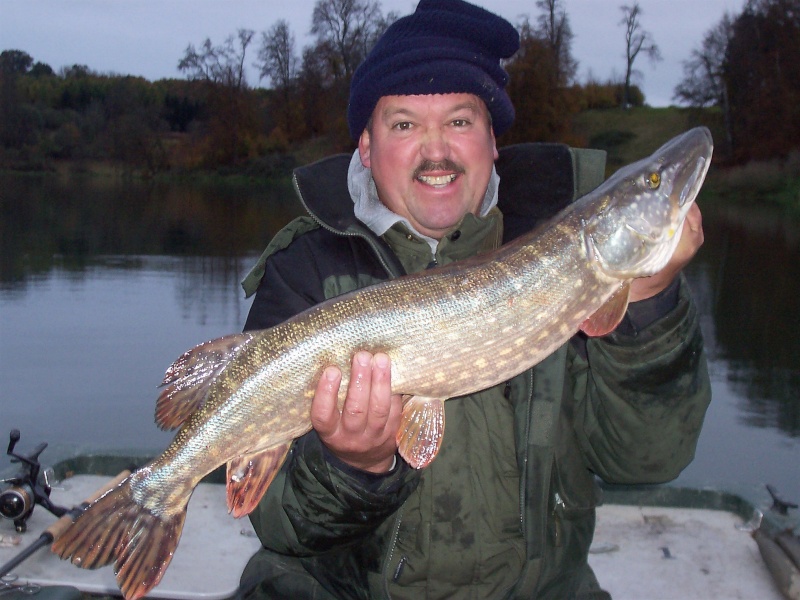 [/img]
Simple float leger tactics will work for deadbaiting, use the lightest leger you can get away with, using heavier leads if the wind is stronger to keep you float in position. We never had the need to use a straight leger set up and with the float leger set correctly you will get indications on the float when the pike takes the bait.
Fishing & Location
Fishing at Blenheim holds a special place in my angling memories, the history, the splendid surroundings in which you feel privileged to be allowed to share and the magnificent Estate House over looking the lake, it never fails to capture the moment and every session is different to the next. Ive been out on cold misty mornings, endured gale force winds and enjoyed glorious warm autumn days and whenever I leave I look forward to booking for the next time.
Pike can show up anywhere on the lake, however over time we have realised that there are a few spots that have kept on producing year after year which ill go into in a bit more detail.
Once youve made your way to the picturesque boat house and chosen your vessel for your days piking, you might feel the urge to row half way across the lake to explore, especially on a cold day just to warm up. However we have found that in front on the boat house (30\40 yards) and 30\40 yards directly either side of it often result in a pike, and ive got a reason why this is which ill come onto later. Once afloat you can see the length of the east bank (boat house bank), and you can see why I always spend some time in this area. The overhanging trees reaching into the water, reed beds and the lilly pads are a haven for bait fish, which the pike follow and feed on. If we decide to head to the south end of the lake (to right if your looking at the boat house) we will anchor up every 50 yards and spend half an hour in each swim, longer if we catch a pike.
[img]
[/img]
The south end of the lake is deep (18-20') and narrows, we have the found the piking not to be prolific in this area however the pike tend to be on the bigger size with less jacks so its always worth spending some time here.
If we decided to head north from the boat house and row towards the Grand Bridge, again in doing so we would stop every 50 yards and fish until the end of the tree line and again this area has proved successful on many occassion with both lures and deads. Once the tree line ends our next stop would be the open area of water roughly 200-250 yards directly in front of the Grand Bridge. This area is deeper than the water around the bridge and has some weed growth but not as prolific as the bridge area. It has a good depth averaging 10 feet. Pike tend to like this area and I think its gives them a good holding area between the shallow and deeper water.
[img]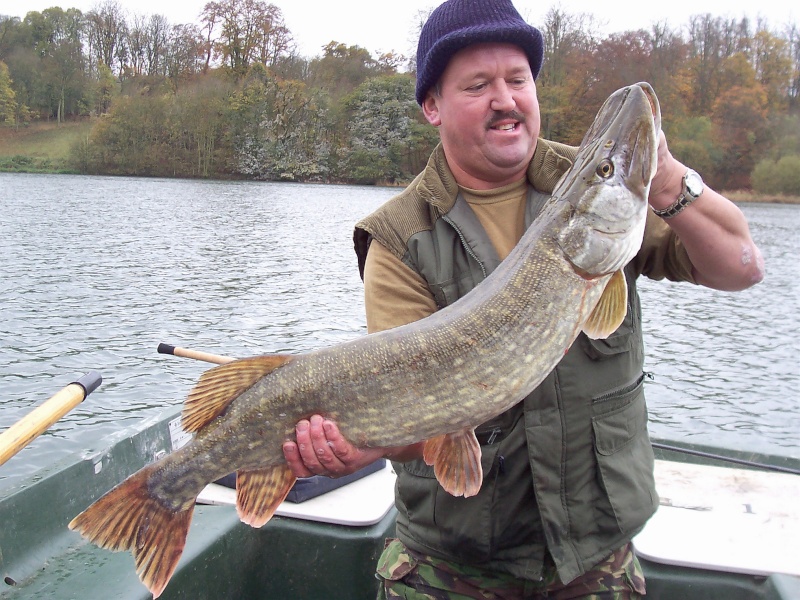 [/img]
Lure caught 18lber
Fishing directly in front of the bridge proves very popular with visiting fisherman and this is often the area most of them will head for first thing in the morning. This area is shallow, 3-4 feet, it still holds pike during the winter months, albeit I prefer milder winter days if Im going to spend any time here. Jerk baits work well in the clear shallower water and red letter days can be had if you catch the pike in a fry feeding frenzy and this has happened to us a few times, its great sport. The bridge area also holds a good residence of perch and float fishing worms can often prove their downfall.
Another area I keep being drawn back to is the small west arm which is again shallow, being 3-5 feet in depth. When fishing in late February and into March I can not resist an hour here, I feel one day it will throw up a big pike. My reason for this everytime ive fished it at that time of the year, ive always caught jacks. However these jacks have had fresh bite marks on them, something the female pike does when they are spawning, and being relatively shallow, I believe this is a spawning area for the Blenheim Pike, im sure there must be some big old girls waiting to be caught towards the end of the season.
Now back to the boat house, at the end of a long piking session, dont be in a hurry to tie your boat up get back to your car so you can make the journey home. Its always worth trying around the boat house at last knockings. The reason for this is, ive seen so many pike fisherman at the end of their day, chuck their unused deadbaits over the side of their boat. I feel the pike must get used to this and as the light fades, patrol the boat house for a free meal. Maybe next time your trebles will be the next "freebie"!
[img]
[/img]
Over the years we have struggled to catch in the open feature less areas of the lake and I would advise anyone visiting Blenheim for the first time to fish to the bankside features and cover lots of water, moving every hour or so. It may seem an effort hauling the mud anchors aboard a couple of times every hour, however you effort will be rewarded im sure.
[img]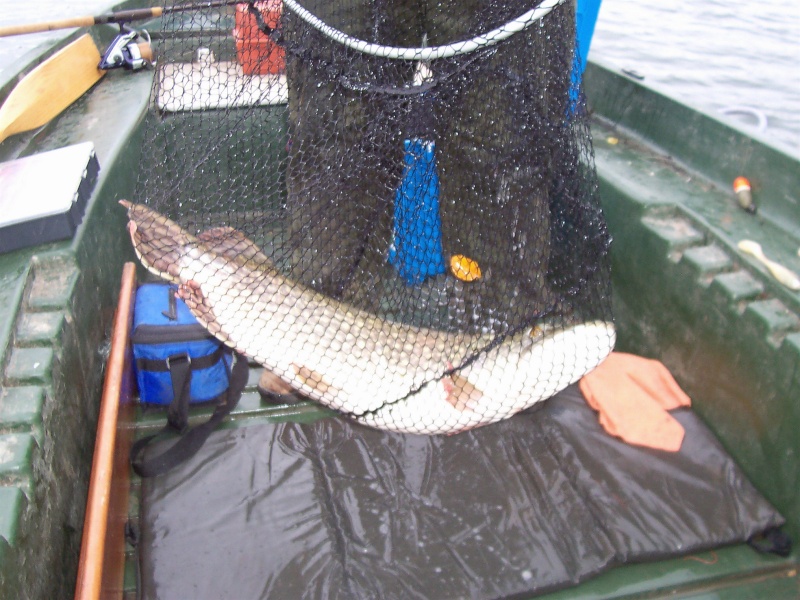 [/img]
Unhooking Mats Essential
Baits
Having used a number of different deadbaits over the years at Blenheim, 3 have stood the test of time and have caught us more Pike than any others and we would never fish the lake without them.
Smelt
stands out as a great Blenheim bait and accounted for my fathers biggest pike to date, a magnificent fish over 28lbs.
Skimmer Bream
also proves to be popular with the resident pike, probably due to the shoals of bream that they terrorise each day.
And last but not least the good old
Half a Mackeral
, I lost a very big pike on this bait having seen the fish just under the surface only for the hooks to pull out seconds later.
[img]
[/img]
If you fancy fishing Blenheim Palace for Pike, or tench and bream for that matter, you will need to book in advance contacting Victoria Bellamy on 01993 810510 or visit their website. To fish in such beautiful surroundings is a great experience and one I keep returning to year after year.
You can follow my latest fishing adventures on
www.talesofafisherman.blogspot.co.uk